Below is a brief tutorial on connecting to Q-Link with WinVice for those who want to take a brief stroll down memory lane or perhaps have never experienced what once was the most popular online service for the C64 in the USA. Please note this is not the official Q-Link since that's long gone but rather a home-brew setup by hobbyists that reverse-engineered the original Q-Link code. As such, some areas of Q-Link may not function properly - this is entirely dependant on who is running the server.
I am basing this guide around WinVice 1.15 because I couldn't get the command line to work with recent versions - there appears to be a restriction on the number of arguments allowed in newer versions. Other guides for Vice 2.1 also required TCPSERJ - You only need Vice in this setup.
1) Download
Winvice 1.15
2) Download the
Q-Link client software
. It is archived in GZ format.
WinRar
,
IZarc
and
PeaZip Portable
can unpack GZip.
3) Extract WinVICE and the QuantumLink.d64 to the same directory. Keep the original QuantumLink.d64.gz in a safe place in case you or someone else needs to log in as a new user. The reason for this is once you sign in and register with Q-Link it personalizes the software by writing your user info to the QuantumLink.d64 file and that disk is married to the server you registered it with. You will need to keep a separate disk for each server you connect to for this reason.
4) Start WinVICE 1.15 with the following command line:
x64 -truedrive -rsdev1 <IP ADDRESS>:<PORT> -rsuser 1200 -rsuserdev 0 QuantumLink.d64
You need to know the IP address and port of the server you are connecting to. Q-Link servers come and go but at the time of this writing
ShadowM
has a server active at lyonlabs.org. You need to use the IP address in the command line, DNS name won't connect. So to connect to lyonlabs.org at port 5190 the command line would be:
Code:
x64 -truedrive -rsdev1 70.60.83.65:5190 -rsuser 1200 -rsuserdev 0 QuantumLink.d64


You can copy and paste that line into a shortcut so you just click on a link to start Q-Link.

5) When Q-Link loads for the first time you will be asked whether you want to See a Preview of Q-Link or Connect to Q-Link. Use the cursor keys to highlight

Connect to Q-Link

and press '

F1

'.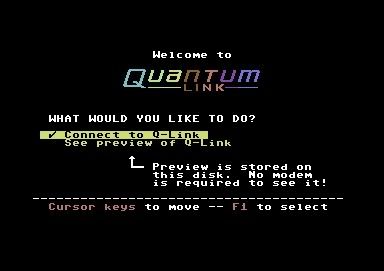 6) Press a key on the next screen and you will be at the settings menu.

Select

Change modem type

by pressing '

F1

'.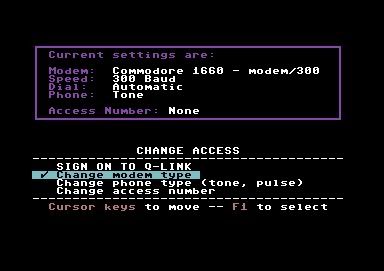 Use the cursor keys, select

Other command driven modems

and press '

F1

'




You will be back at the settings screen.

Using the cursor keys highlight

Change modem speed

and press '

F1

'.
Highlight

1200 Baud

and press '

F1

'. When you are back at the settings menu highlight

Change access number

and press '

F1

'. Since we are actually never going to dial out we will enter a bogus number: type in

+5551212

and press '

RETURN

'. Q-Link software needs to see a number here or it won't let you proceed.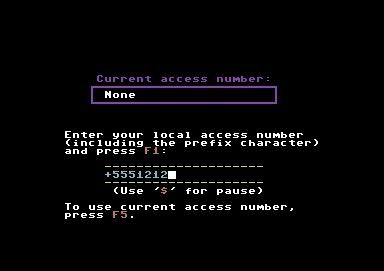 When you're back at the settings screen confirm the following:
Modem:

Other command driven modems


Speed:

1200 Baud


Dial:

Automatic


Phone:

Tone


Access Number:

+5551212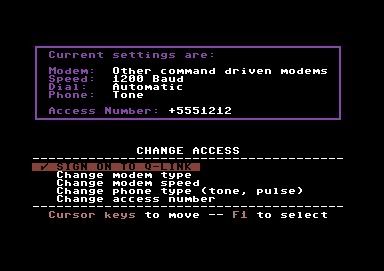 If your screen looks like this you are ready to connect to Q-Link
Cursor up to

SIGN ON TO Q-LINK

and press '

F1

'. Q-Link will continue to load.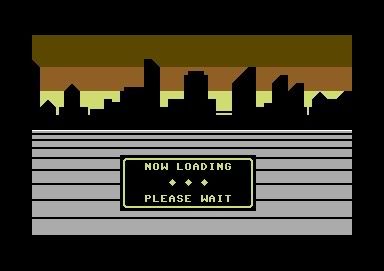 7) You are now at the sign-in screen: A black screen with green borders and a prompt saying Type commands to the modem, then press F1 when the connection is made.




Just press '

F1

' and you will see one dash..if the connection is successful another dash will slowly appear and you will be at the

WELCOME TO Q-LINK

screen where the registration process will begin.




Choose a username and follow the remaining prompts. After you complete the registration prompts you will see the main menu.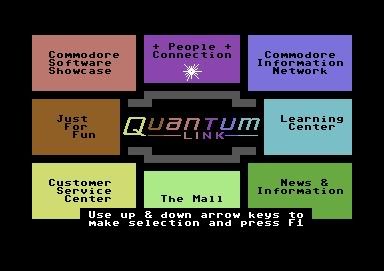 Press '

F1

' on

People Connection

(Q-Link's online chat area).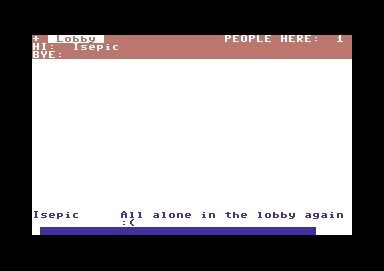 You start out in the Lobby, a public chat room but you can create your own chat rooms (public and private).




'

F7

' brings up the main menu. Use the cursor keys and press '

F1

' to make your selection. To sign off choose

Move to another Q-Link department

and sign off on the next page.

If you are dissatisfied with the default colors you can download the Q-Colors utility to change them in various areas except games.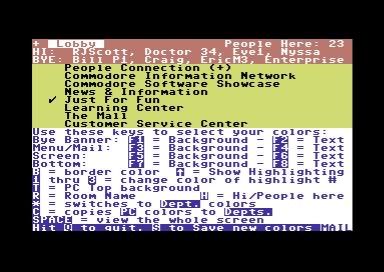 See you online!
_________________